What you can do at DromontGroup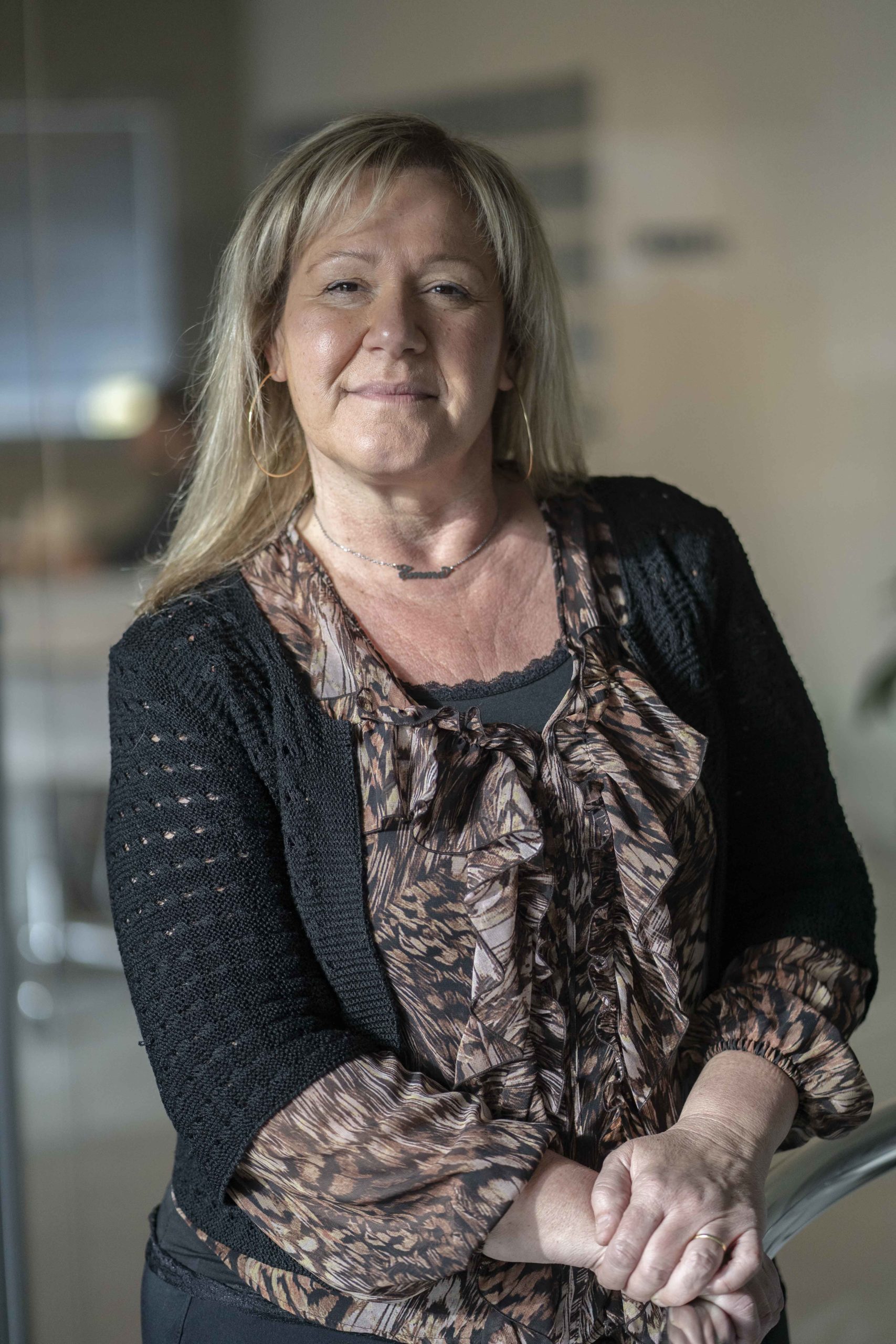 Emma Corradi
Customer Service, Forwarding & Logistics
Comec – Canossa (RE) Italy
Tell us about you
I graduated with a degree in accounting, and over the next twenty years, I worked as an administrative clerk for several companies. I started with a small engineering company, after which I moved to a larger company that produced machines for bottling and then another that designed automatic warehouses.
In July 2013, I joined the Dromont Group in the COMEC division where I have an opportunity to use my vast experience and skills for a variety of roles. I see myself as a genuine and honest person with passion for my work. Being an optimist, I try to see the beauty and the good, always and everywhere. I am a team player; respecting those who accompany me in my life and work. I like to help others when I can. I am always available for a colleague facing challenges.
What do you do at DromontGroup? What are the activities that a customer service employee usually does?
My career in Comec began as an administrative employee and logistics manager. I also stepped in to support our Customer Service Team while a colleague was on maternity leave. I have performed many different roles including switchboard, shipping, administration, customer service etc. I enjoy multitasking! I've always loved being able to contribute to so many areas.
Two years ago, I had an opportunity to focus my activities on a new role in Customer Service / Customer Care / Shipments and Logistics. I love this role in supporting our customers and colleagues, so I gladly devoted most of my time to this new responsibility.
Specifically, I take care of the entering and executing all our offers, quotes, customer orders and shipments. I work closely with our technical office regarding the organization of the shipments of our machinery and systems, and the preparation of all the necessary documentation.
What are the most important personal skills and abilities for your role?
The main skills that an excellent customer service employee will use are listening, empathy, patience, and calmness under stress. I feel that I perform these well.
Listening to customers' requests carefully, answering their needs quickly and effectively, solving their problems, improving the credibility of our brand, and cultivating customer relationships are my first business goal. I always do everything possible to satisfy our customers as they are a precious asset of the company. Without their trust our beautiful vision for our business could not be achieved.
How rewarding can it be to be able to satisfy a customer's requests?
I enjoy receiving emails or phone calls from satisfied customers who appreciate my work. This is one of the main reasons I love my job!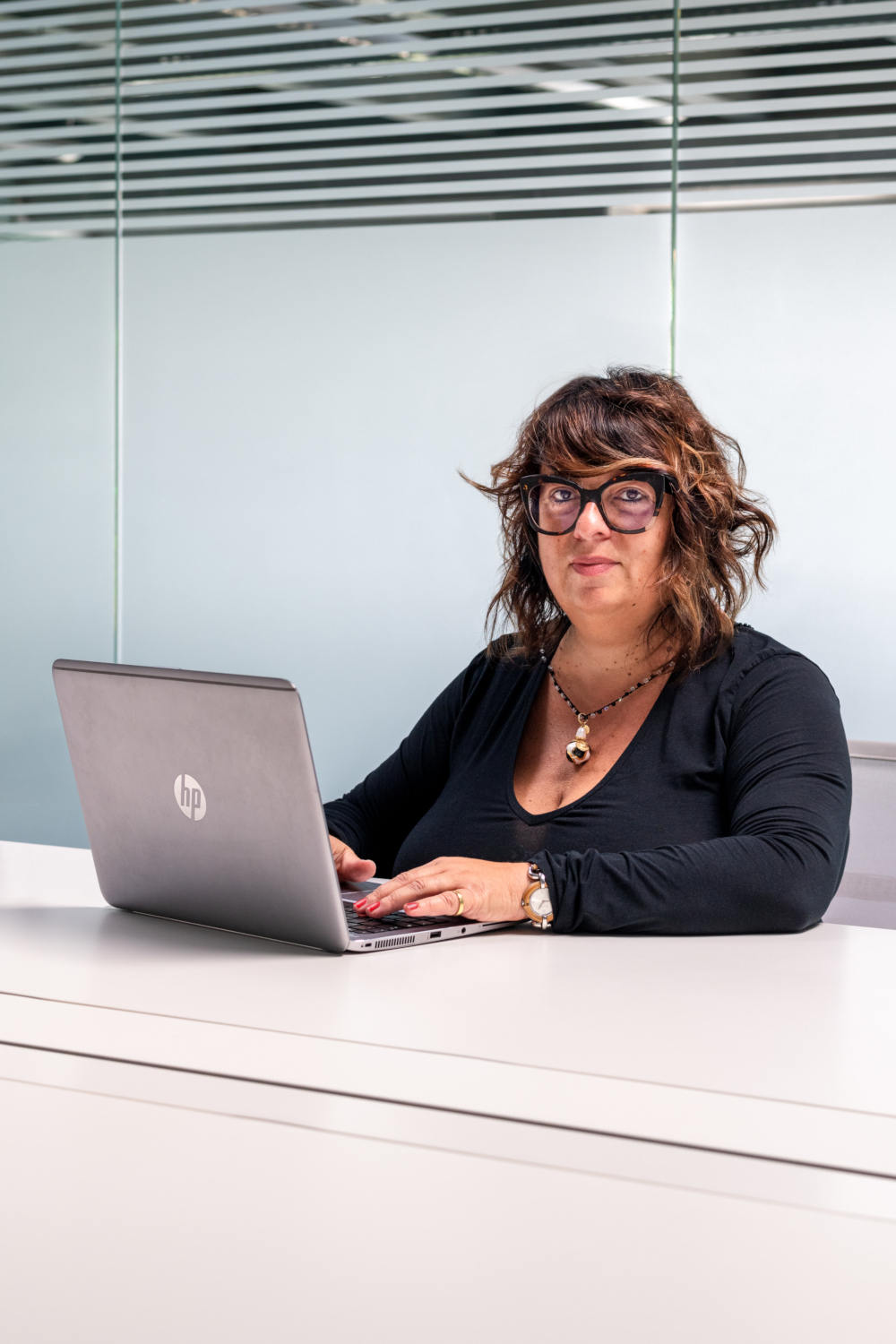 Cristina Cordero
Business Development Manager
Dromont – Grinzane Cavour (CN) Italy
Tell us about you
My name is Cristina Cordero and I've been working at Dromont since 1994. I attended a technical school with a focus in business administration. I joined the Dromont Group in the administrative office.
However, I have always preferred to work closely with others, especially our customers, so in 2002, I was offered the opportunity to join the sales office and today I'm still here focusing on developing relationships while broadening my horizons.
What do you do in DromontGroup? What are the most important skills and personal skills for your role?
For many years I have been responsible for all Marketing and Marketing Communications for Dromont Group. As the company grew in key markets, I contributed to the preparation of the catalogues, to the preparation of the International Fairs, and to Dromont Group's image via our new websites in 2020. After speaking with many potential customers, I realized that even though we are a market leader in industrial dosing systems for the preparation of paints, inks, and aromas, there are still some customers that do not know us. So, there are still opportunities to broaden the market awareness of Dromont Group and I am eager to work for it.
I had the honor of working closely with Mr. Claudio Drocco, the founder of our company. Since 1994, when the company was still small, he taught me to adopt the following principle: "DETAILS MAKE THE DIFFERENCE". He focused on the details, and nothing was ever left to chance. This phrase became our motto which you can find in our catalogues and on the website. Today my role has turned into Business Development Manager where I enjoy even more direct contact with customers.
What are the greatest satisfactions you have from your work?
The biggest challenge of my job is finding new customers. Generating a new lead takes time to develop trust with a new potential customer. My goal is to arrange an on-site or virtual appointment to discuss a new project using Dromont technology to improve the customers' operations.
In your role as Business Development Manager,ou will definetely get in touch with customers or potential customers. How important is it to establish and mantain a healthy and lasting relationship that goes beyond selling?
I anticipated perhaps the answer in the previous question, TRUST. The Business Development Manager role is a challenge for me, and I like challenges. I am a person who sets a goal, carries it forward and prioritizes all activities for success. The other interesting aspect of this work is getting in touch with the customer.
Initially they are very professional relationships, but with the passing of the time, for many customers, the relationship and conversation grow beyond just a professional area. You find customers who like to share about their family, children, holidays and who even share their vacation photographs. Developing a more personal relationships builds my confidence as it means that the Customer believes in me. In addition to trust, an important ingredient, in my opinion, is listening.
What is the most complicated part of bringing and managing a company to the fair? How do you manage the period of organization and realization of an event?
When I hear the term "Fair" I must start breathing deeply, keep calm and focus all my energies to it.
Preparing the company for a large tradeshow is not easy and can be quite expensive as well. We begin with defining the booth space and developing the message that we want to communicate at the Fair. For example, at the last European Coatings Show in Nuremberg, we decided to communicate all 4 Dromont Group business lines. We focused on videos, graphics, and machinery.
In addition, we coordinated each logo using the representative color for each business line brand. Every time the Customer enters our stand, we want them to feel the same experience as if they are in our company headquarters, The Dromont Experience.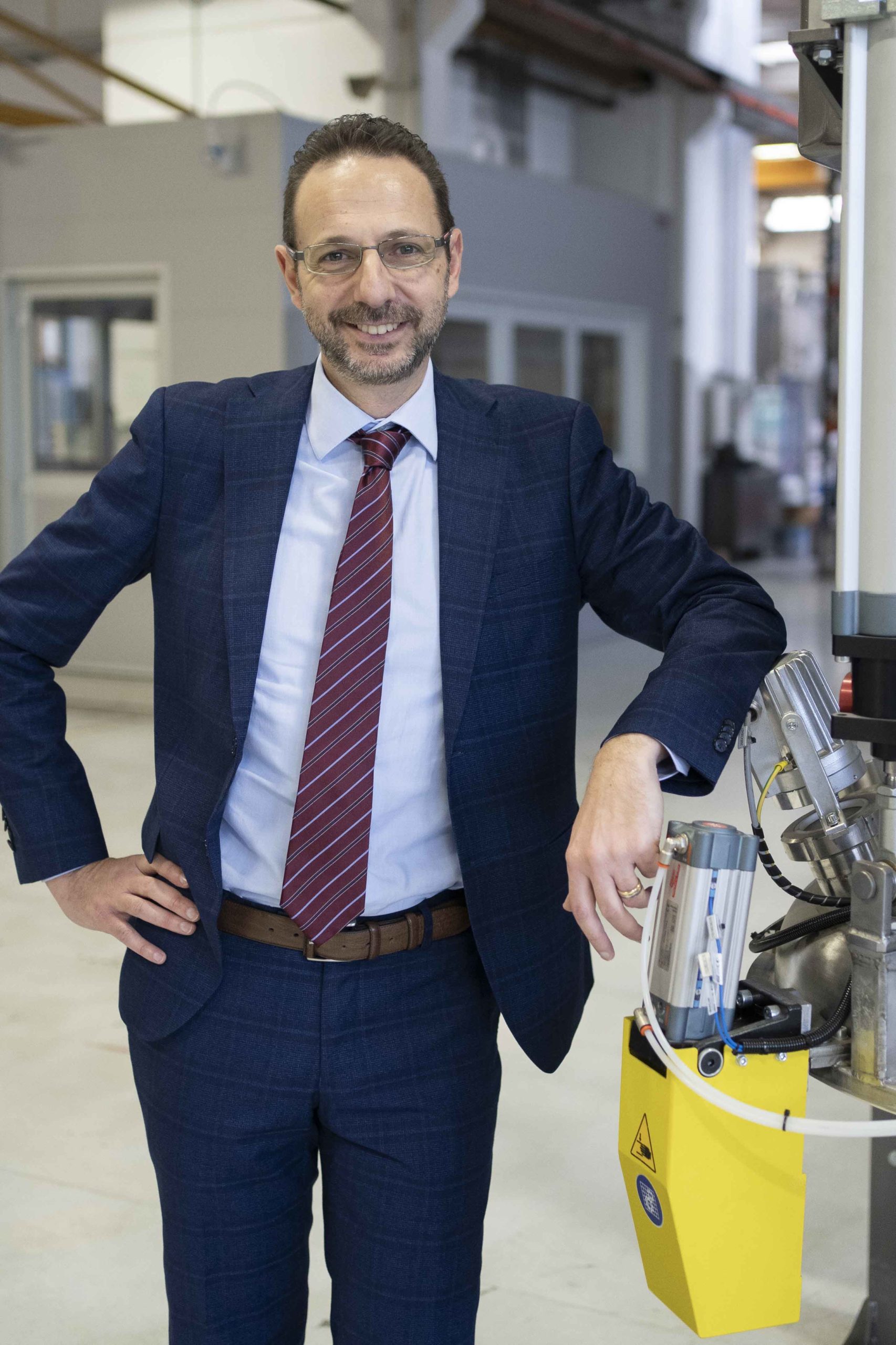 Marco Nucci
Head of Project Execution and Project Management
Comec – Canossa (RE) Italy
Tell us about you
I was born in Palermo where I lived until I got my degree in mechanical engineering: I was a very motor enthusiast since I was young so my studies could not end differently! In 2005 I moved to Reggio Emilia, where I started working as a mechanical designer. In the following years, working in different companies, from dynamic PMI to structured and organized multinational companies, has allowed me to arrive at DromontGroup with a comprehensive and varied experience. These changes were the natural consequence of my curiosity and self-motivating tendencies. I am always committed to doing better and like to have a general view of things. My kryptonite? The routine.
Besides the passion for motors, in my free time I dedicate myself to music practice by playing the guitar in a rock-blues band. I also enjoy mountain biking as the paths and woods offer moments of healthy solitude that discharge the body and recharge the mind.
What do you do in DromontGroup? What are the most important personal skills and abilities for your role?
My role consists of an operational part, with a focus on engineering activities, relating to the control of orders in terms of quality/cost/timing, and a more strategic part, which consists in analyzing internal processes to define procedures and tools for efficient job management. The goal, with support of DROMONTGROUP management, is to make sure that COMEC goes from being a functional structure, where the various departments focus on their own work, to a customer-oriented structure, which makes its own the logic of project management.
Regarding the necessary skills and abilities, I would say that precision, method, and attention to detail, are certainly the fundamental characteristics that anyone operating in the technical field must have. But it is not enough: it is fundamental to have an overview and a result over time and to evaluate the pros and cons of each action, in the continuous search for the best solution. My role also requires skills related to communication: knowing how to listen to understand the needs of your customer and smoothing over differences are daily challenges that you need to address if you want to accomplish your goals.
Over the years Comec has gone from designing machines to turnkey systems. How has the work of the Technical Office changed?
A turnkey system forces the technical office to take a step forward in terms of precision and multitasking skills: complexity increases exponentially, and everything must be done better and with attention to detail.
In addition, the mix of mechanical engineering, plant and automation means that, while respecting their skills, the work of the designer cannot disregard a multidisciplinary approach. We must then consider the extension in time: the work of the designer does not end with creating the bill of materials, but continues in the support to production and, above all, at the construction site until commissioning and acceptance by the customer.
How important is the role of the Head of engineering and project management in the management of complex plants?
Absolutely essential! One of my favorite examples, which summarizes the importance of the project manager is the one that relates the PM to the job as the conductor to his orchestra: each component is definitely an excellent musician and knows his part by heart, but without the guidance of the director, the final result will be, at best, mediocre.
How do you see the DromontGroup's future?
Surely one of the keys to the success of DROMONTGROUP will be to consolidate relations with major international players, creating partnerships that go beyond the supply of single machine or plant, but becoming more and more a partner able to offer complete solutions that respond and, perhaps, anticipate the needs of the customer.
Why recommend work experience in DromontGroup?
Because I believe that in DROMONTGROUP you can have the best of both worlds: a dimension of PMI, which allows you to follow all the stages of development of orders working closely with all departments, but also management with an important and structured seniority, with which to learn to fully utilize these processes. I appreciate having the opportunity to be an actor, even the protagonist, and not just a spectator, in a growing and constantly evolving reality.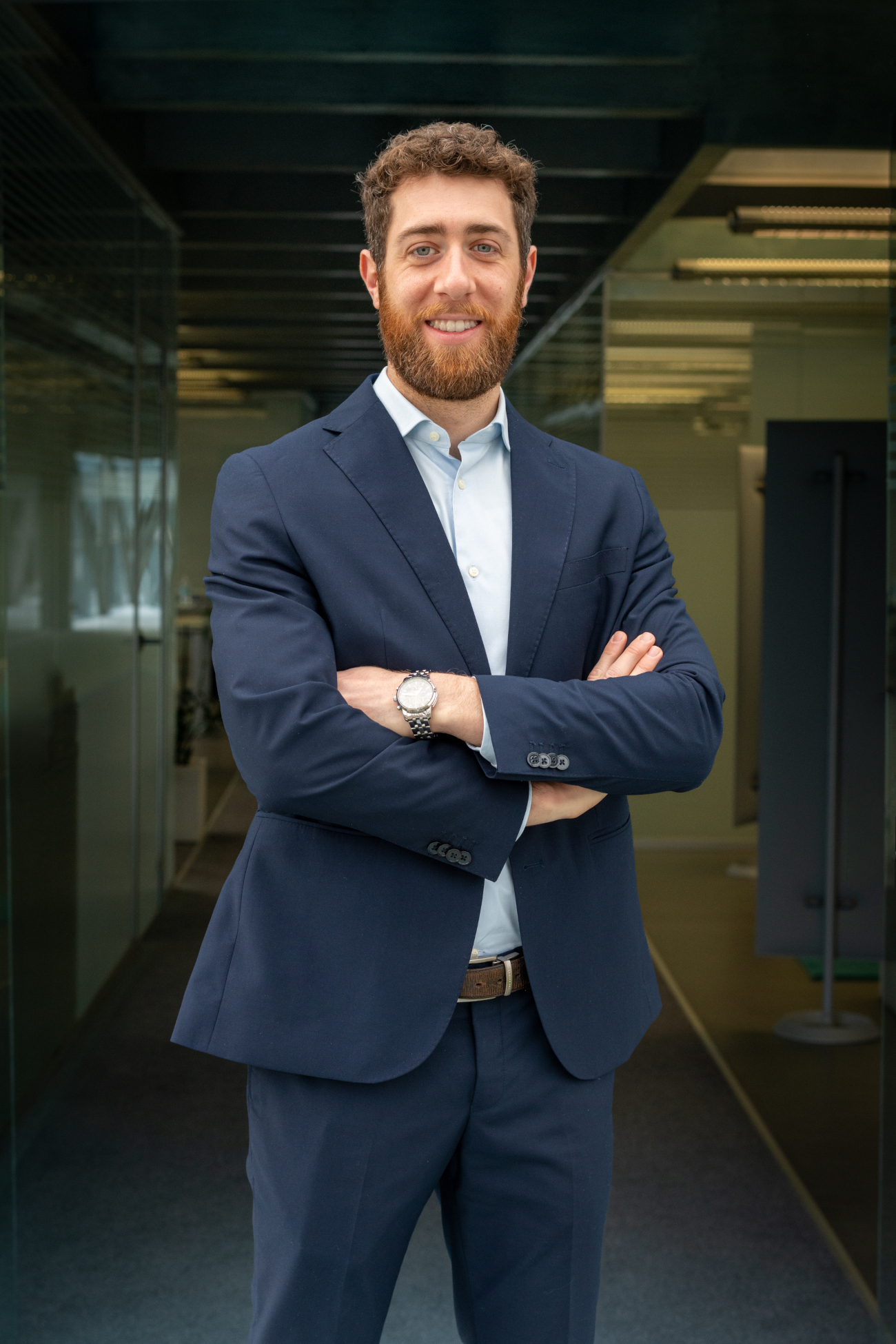 Luca Bertone
Global Product Manager
Dromont – Grinzane Cavour (CN) Italy
Tell us about you
I am Luca Bertone, Civil Engineer graduated from Politecnico di Torino in 2015. I lived for 7 months in France during my studies, this allowed me to know other languages and cultures.
I consider myself a born sportsman with an innate passion for Basketball, that I practice for 20 years together with other sports such as bike, beach volleyball, hiking, skiing and padel.
What do you do in DromontGroup? What are the activities that an Area Manager usually does?
At Dromont I am Global Product Manager with a central focus on the development of the USA+Canada market and I am Area Manager for the Africa and Middle East markets.
The main activities to which I dedicate myself with continuity are: the research of new customers, the development technical-commercial negotiations, the monitoring of competitors and preparation of offers with the main objective of balancing customer needs with corporate turnover objectives.
What are the most important personal skills and abilities to your role?
The most important personal skills and ability of a Product Area Manager are: relational and communicative skills, language knowledge, ability to plan and coordinate the work with colleagues.
all this balanced with flexibility, ability to manage stress and resourcefulness.
Why did you choose this career and how has it changed over time?
I chose this career because I found it immediately "adrenaline", engaging and complete with respect to the role I held as a pure engineer. Over time it has evolved towards a Technical-Commercial role that suits me more, due to the technical skills developed during my studies.
What are the greatest satisfactions you have from your role?
The possibility to interface myself with Manager, Executives and Owner of global leading companies or family realities that aim at continuous progress increasing my desire to learn new things and giving me incentives to grow both professionally and personally.
The direct relation that every day I have with my superior and management, which support my objectives and with which I share the success of a project with the customer, with whom a bond of respect, trust and complicity is created immediately.
The discover of new cultures and the knowledge of new people with habits and uses different form ours.
Why would you recommend a working experience in DromontGroup?I think that Dromont is a dynamic and innovative reality, well inserted in its own sector and with an important global outlook, which allows immediately the development of a pro-active and positive attitude towards new challenges.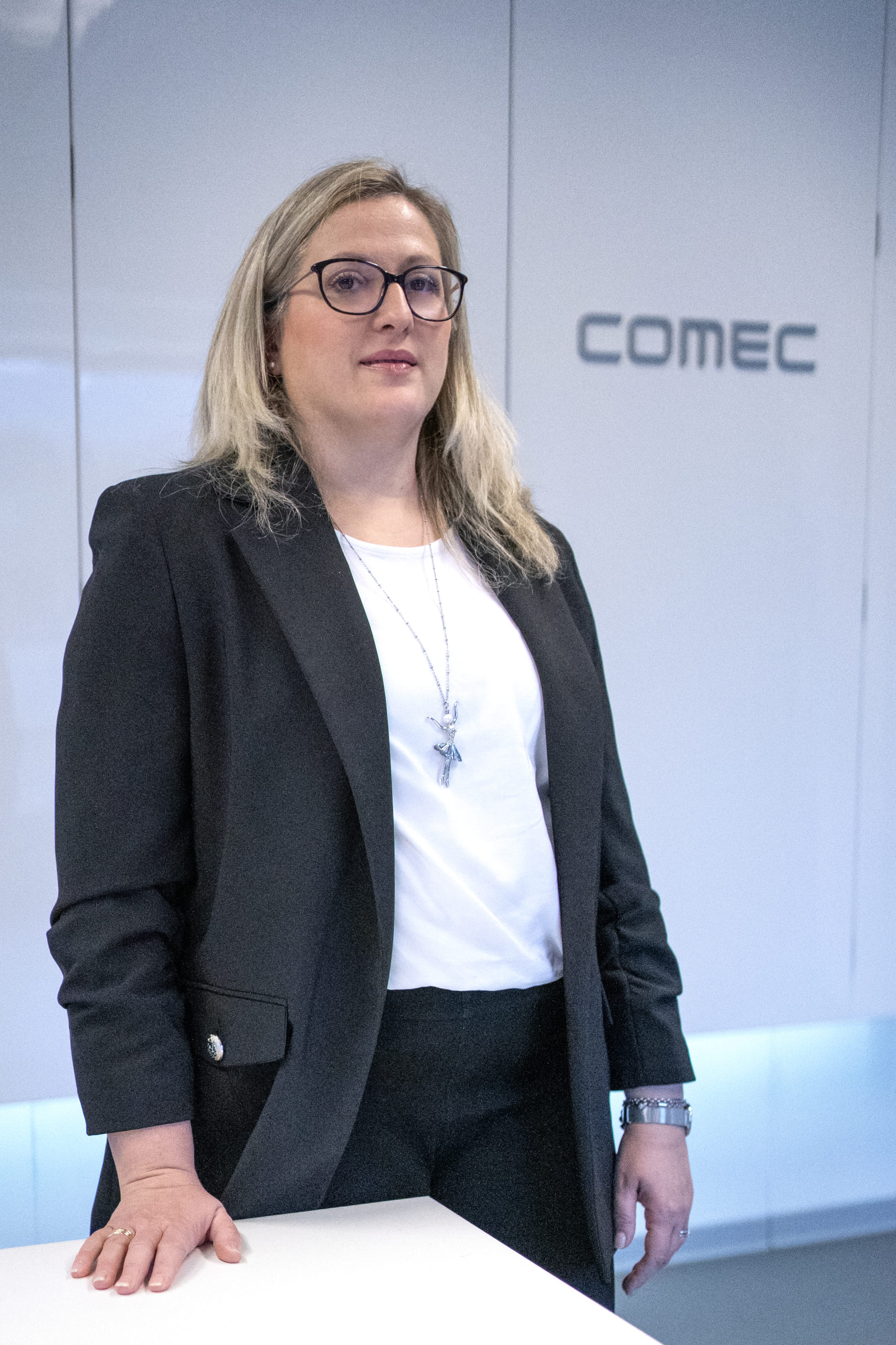 Elena Zuliani
Administration and Finance Manager
Comec – Canossa (RE) Italy
Tell us about you
I grew up in a large family in the province of Reggio Emilia, a city where I completed my studies by graduating with full marks from the "Scaruffi" Commercial Technical Institute in Accounting, a subject that has always fascinated me, allowing me to express my predisposition to logics and mathematics.
After graduating I had the opportunity to work in small and medium-sized companies in the area, which allowed me to touch many business areas and with ever-growing tasks, from secretarial, purchasing office to management control and budgets. This breadth of experience helped me develop flexibility and an overall vision of company management.
I am married with a son; I love reading and going to the cinema.
What are the most important personal skills and abilities to your role?
I come from a family of small traders and craftsmen; I collaborate with them since I was a child. Being in contact with the public, has allowed me to develop a kind yet attentive communicative approach towards customers and suppliers. The availability and humility towards colleagues and the curiosity for new tasks, in the first years of work, allowed me to acquire specific knowledge. Now they help me to maintain a high level of communication between colleagues and to develop problem solving skills, which is an increasingly necessary skill. I am very tenacious and stubborn, demanding first with myself.
I am often defined as a pessimist, but I see myself in a more realistic vision: expanding the possibilities of possible events, whether positive or negative, helps to prevent them and to train forward-looking and broad thinking.
Accuracy is essential in the accounting office; therefore my working approach is certainly one of rigor and severity as well as confidentiality, especially when it comes to handling sensitive and personal matters.
I'm a very sensitive and empathetic, and often a thoughtful person. I try never to make hasty or confrontational decisions, especially when it comes to the well-being of colleagues. A lot of balance is needed between the reasons of the heart and the mind.
What do you do in your department and what are the greatest satisfactions?  
For 10 years I have held the role of Administrative Manager for Comec: with the help of several colleagues and the supervision of Dromont, I am responsible for the entire administrative and financial sector of Comec.
My job remains very operational, so I perform tasks from simple accounting records to preparation of annual and financial statements and data for tax reports. I take care of the loading of the commercial orders of the Inplant sector and of all the consequent invoicing and shipping. I actively collaborate with the project engineers on the management of big orders and on management control. I deal with the more practical management of the employees (attendance recording up to the payment of taxes) as a spin-off and under the supervision of the Group HR department.
What are the greatest satisfactions?
One of the greatest satisfactions is definitely the respect and appreciation that I receive from colleagues and external collaborators in recognizing the commitment and efforts necessary to achieve the objectives and overcome the difficulties. Commitment and transparency always pay off.
Why would you recommend a working experience in DromontGroup?
DromontGroup offers many challenges. With a desire to get involved, you have the opportunity to grow professionally and personally. I find it Impossible not to become attached due to the passion of my working group.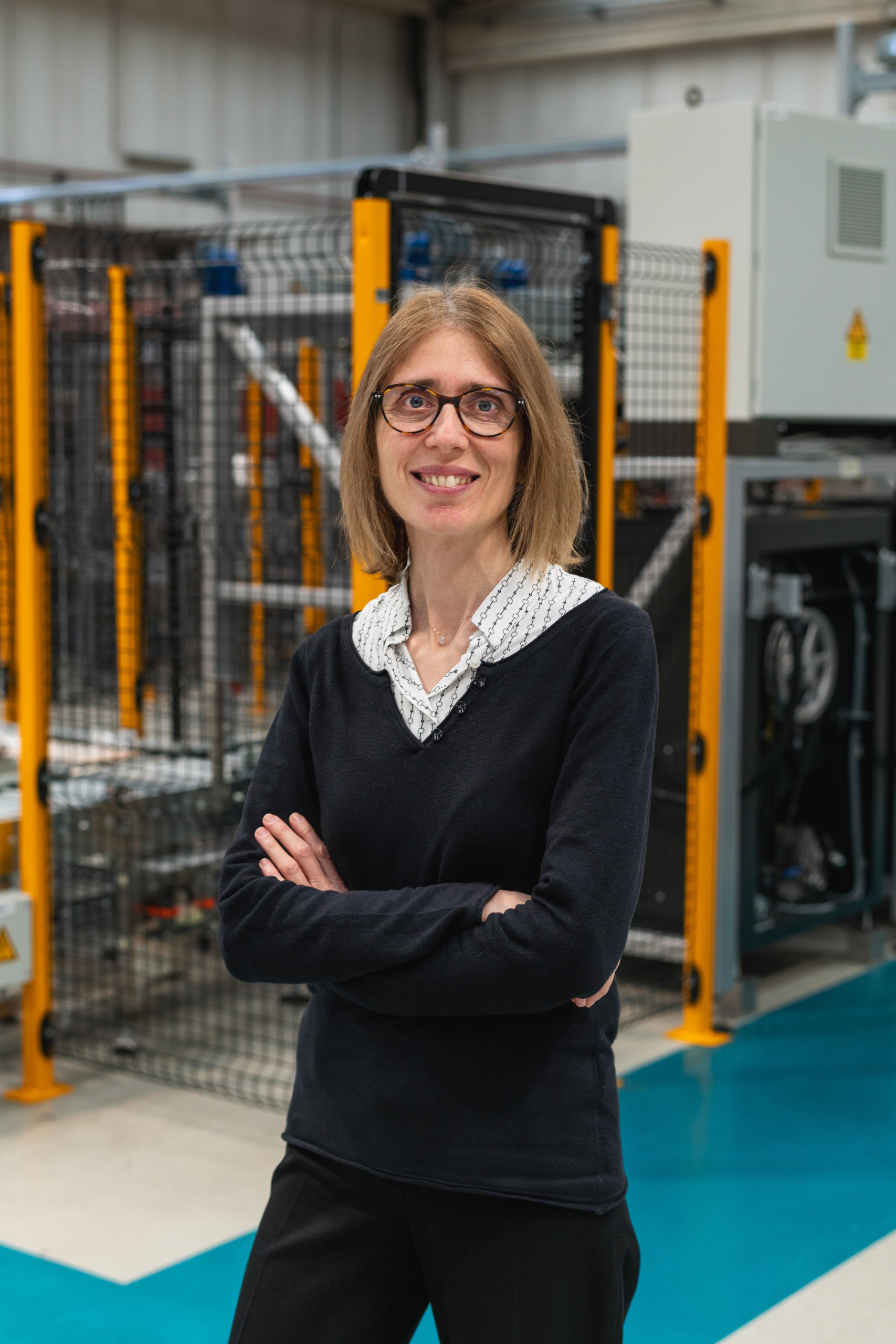 Mariangela Mascarello
Hardware Manager – Automation Department
Dromont – Grinzane Cavour (CN) Italy
Tell us about you
I am an optimistic person, I like being around others despite having a reserved nature. I have always loved reading even though, lately, I never have time to do it: reading a good book is like going on a nice trip for me.
I graduated in Engineering at the Turin Polytechnic University before starting my career at Dromont.
What do you do in DromontGroup? What are the most important personal skills and abilities to your role?
In Dromont, together with my colleagues, I deal with the electrical design of our dosing systems including specification of electrical and pneumatic components, I help my Customer Service colleagues in assisting customers with hardware solutions. I follow our electrical installations both at the Dromont factory and remotely at our customer's sites. I also support our technicians around the world, with the upgrade of older systems, many times in collaboration with my software design colleagues.
In my work, it is very important to know the regulations relating to the electrical classification of the operating areas as this can vary by destination countries. In addition to the relevant knowledge in our sector, my role also requires great flexibility and good organizational skills to be able to follow increasingly complex and large-scale projects. Continual learning is essential due to the rapid pace of developments and allows me to identify the most suitable solutions for each application.
25 years have passed since your first day at Dromont: quite an achievement! What binds you so firmly to the company and what leads you to continue investing your time here? 
Indeed, 25 years are a long time but I assure you that they have flown by, despite the problems of every day. The increasingly pressing pace of work and the difficulty in finding materials due to recent supply chain issues have further complicated an already complex role.
I can say that Dromont and I have grown together… and every day we face new challenges together. We never get bored!
In recent years, thanks to the help of those who have shared this journey with me, I have grown not only professionally but also personally. Over the years, I am more and more convinced that collaboration and mutual trust are the trump card for achieving any goal.
What are the greatest satisfactions you get from your job?
I find satisfaction in continuing to grow, getting to know new realities and coming into contact with customers from all over the world. For a company like ours, which was born and developed in a small town in the heart of the Langhe, this is a source of great pride. There is certainly room for improvement but, at the same time, there is no shortage of stimuli. One of my greatest satisfactions is seeing a system that works and exceeds the requirements and expectations of our customers.
Being able to count on large international customers that continue to choose our products every day is very important.
Why would you recommend a working experience in DromontGroup?
I would recommend a work experience in Dromont because it offers many opportunities for professional and personal growth, and it allows us to deal with international realities. Dromont is a dynamic and stimulating company.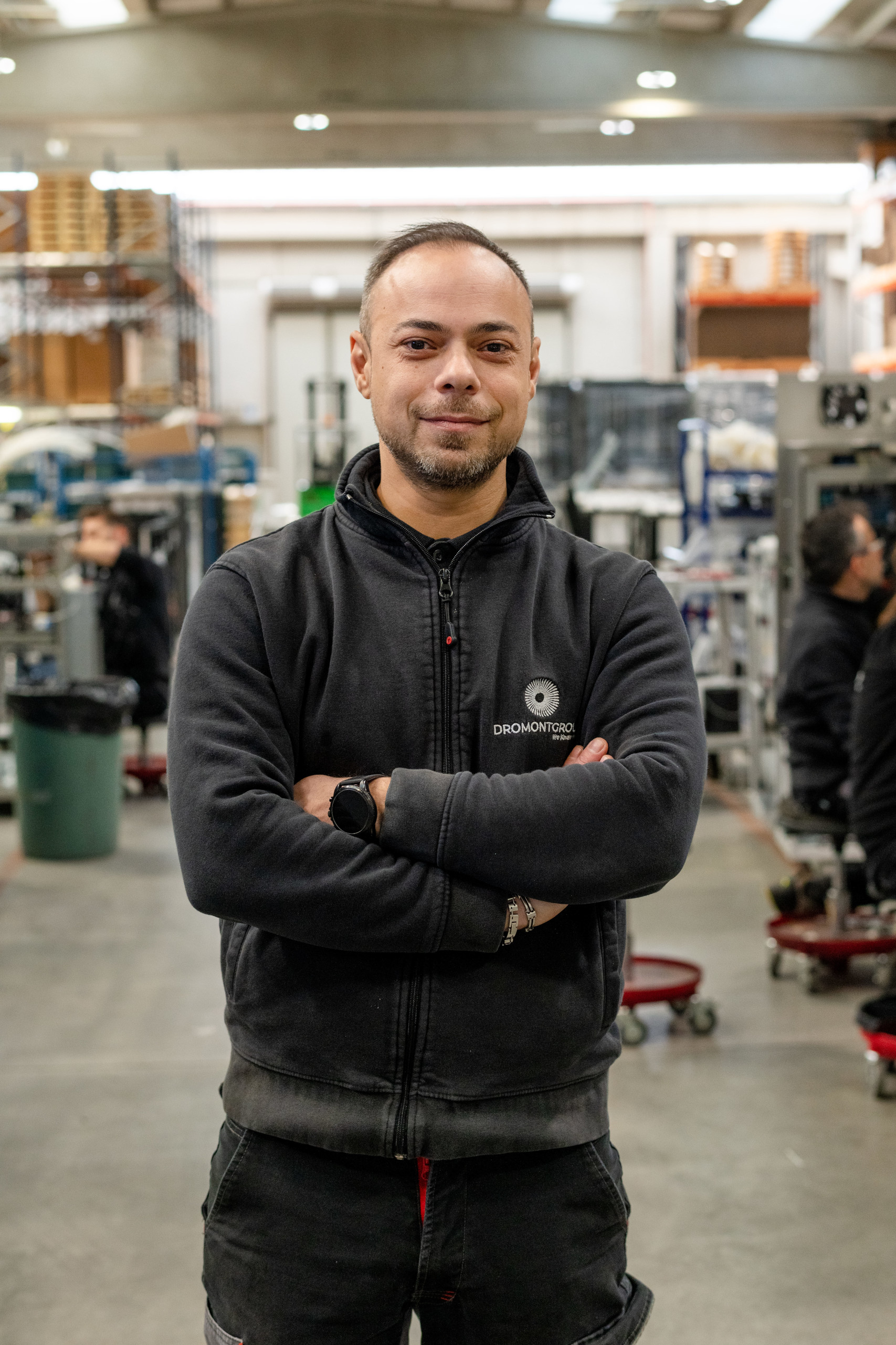 Luca Totino
Retail Department Coordinator
Dromont – Grinzane Cavour (CN) Italy
Tell us about you
I was born in Alba in 1986. In  January 2007, I finished my schooling with a qualification as a civil and industrial electrical operator with a specialization as a SPAC designer.
I began my journey at Dromont as a mechanical fitter, which lasted almost 15 years: then my new adventure as Coordinator of the Retail Department began.
What are the most important personal skills and abilities to your role?
For this role, it is important to have good organization skills since my team is currently made up of 8 members, and we produce hundreds of machines a year. Therefore, you need to be able to relate to each of them in the best possible way to allow them to be able to work at their best. Our Team goal is the delivery of orders on time. Our Team accepts this goal as  a challenge to stimulate our performance without weighing too much on the working hours.
Let's talk about job rotation, i.e. the policy of rotating resources within the company to give workers new incentives and opportunities for growth. How has your job changed since you are the Coordinator of Retail Production, what are the new responsibilities?
My job has changed completely in the last months, since I moved from assembling the machines and managing orders, to managing an entire production department. All this, in one of the more challenging years in the sector, given the great difficulty in finding the raw materials and other parts necessary for assembly due to supply chain issues resulting from the pandemic.
My goal is to bring all members of my group to the same level so that each of them can do any type of work and any machine model, guaranteeing the same high-quality standard that has distinguished us over the years.   Maintaining our recognized Italian craftsmanship and great final products performance make Dromont a leader in the sector. and has allowed us to work with the largest world producers of paints.
What do you do in your department and what are the greatest satisfactions?  
In the Retail department, we produce tinting machines, automatic or semi-automatic machines of various models for dispensing paints that will be installed in shops, laboratories, and industries as well as some dispensing systems produced to be installed in more complex, automated plants.
One of my greatest satisfactions is being able to complete the orders on time, which is even more challenging given the increase in delivery times for the materials necessary for production, and seeing the group satisfied with a job well done. Of course, there is also great satisfaction with the arrival of each new order because this means that our good work is appreciated by the customer.
Why would you recommend a working experience in DromontGroup?
Almost 16 years have now passed since I started at Dromont and I am very grateful to this company for giving me the opportunity to grow professionally and personally. I have been lucky because I have always been guided by very competent people who are very capable of doing their job, for this reason I hope to be able to do the same to help my group, my department and my company grow more and more. I think my career progression is a wonderful example of how an employee starting with an entry level position, working hard, and learning the right skills can grow to lead the entire production department.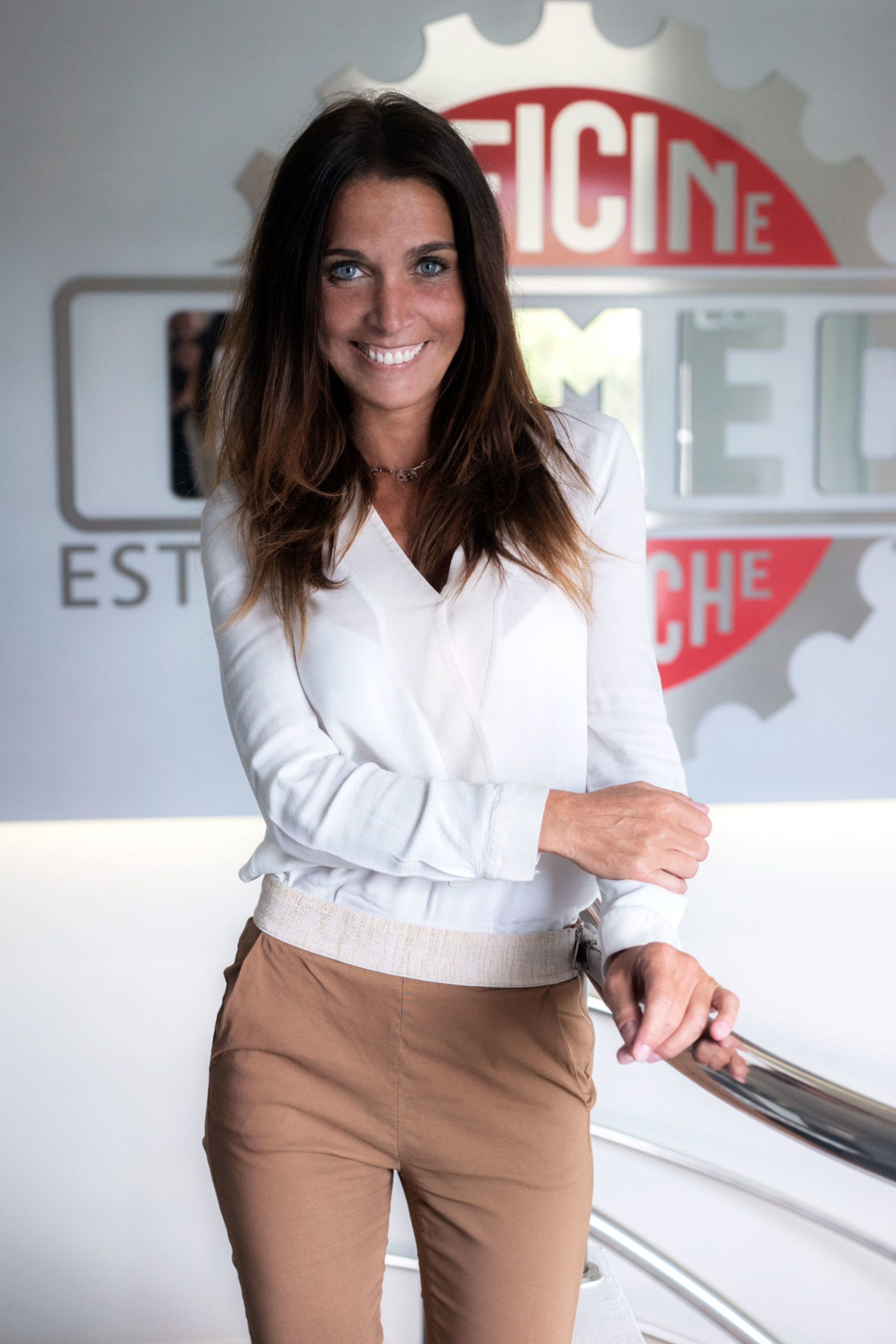 Emilia Monica
Purchasing Manager
Comec – Canossa (RE) Italy
Tell us about you
I love the sea, the sun and good food and wine. I love my job, both on the purchasing and supply chain side, especially in a difficult time like the one we are going through.
I love challenges. And having chosen to work in a purely male sector is a clear example of this.
I am a person who likes to listen. I build on what I see / hear. I am reflective without losing sight of the more intuitive part of me.
What are the most important competences and personal skills for your role?
Over time, the role of the Purchasing Manager has changed radically. Years ago, a good purchasing professional was evaluated on his skills as a negotiator, contract manager and knowledge of procurement processes. Today this is no longer the case. The role has become increasingly strategic and to the skills listed above, which obviously remained the basis of the profession, others are added to succeed in a working world that has certainly become more complex but also more stimulating. To name a few: leadership, adaptive speed and flexibility, openness to change, problem solving, critical and strategic thinking, ethics and responsibility, innovation, analytical and communication skills.
What do you like most about your job?
It is a work that knows how to involve, dynamic and stimulating. In which you can grow, experiment, learn something new every day and bring your own contribution. I also like to have the opportunity to express a part of my person and be able to be a good example for my collaborators. I feel great satisfaction when, together with my team, we manage to achieve the set goals.
Let's talk about partnerships with suppliers, how is the relationship evolving?
The relationship with suppliers is a key aspect. In our sector, some suppliers take on even more importance because they hold the know-how of the product and / or process. By placing relationships at the center of supply chain management, it is possible to create more effective and collaborative dynamics. A good partnership also fosters innovation, which is a vital element for the growth of the company itself. The challenge for a purchasing office is to be able to balance the traditional role of negotiation, with the maintenance of a partnership based on trust and transparency.
What difficulties are you experiencing in the procurement of raw materials following the pandemic and the war in Ukraine?
The pandemic and, more recently, the war between Russia and Ukraine have posed unprecedented challenges along the supply chain, creating several bottlenecks: from logistical disruptions to shortages of manpower and raw materials. The imbalances generated by supply and demand have brought to light the vulnerability of the global market. This has made the supply chain an intricate labyrinth but at the same time has highlighted its strategic importance within business processes. The difficulty in finding raw materials has necessarily led to a more prudent and preventive management of the entire procurement and supply chain system. To date, in our daily life, we continue to have increases and shortages of material. Many of our activities are dedicated to finding alternative solutions to ensure production continuity and consequently our business.
Why would you recommend a working experience in DromontGroup?
It is a merit-based company in which value and talent are appreciated and recognized. He has a clear vision and strategy. Thanks to an international commercial network, you can breathe a global and open climate. It represents a fair compromise between super-structured (and often plastered) multinationals and small / medium-sized Italian companies. In the sector, it is a well-known and prestigious Group, in which there is a right balance between history / solidity and innovation / change.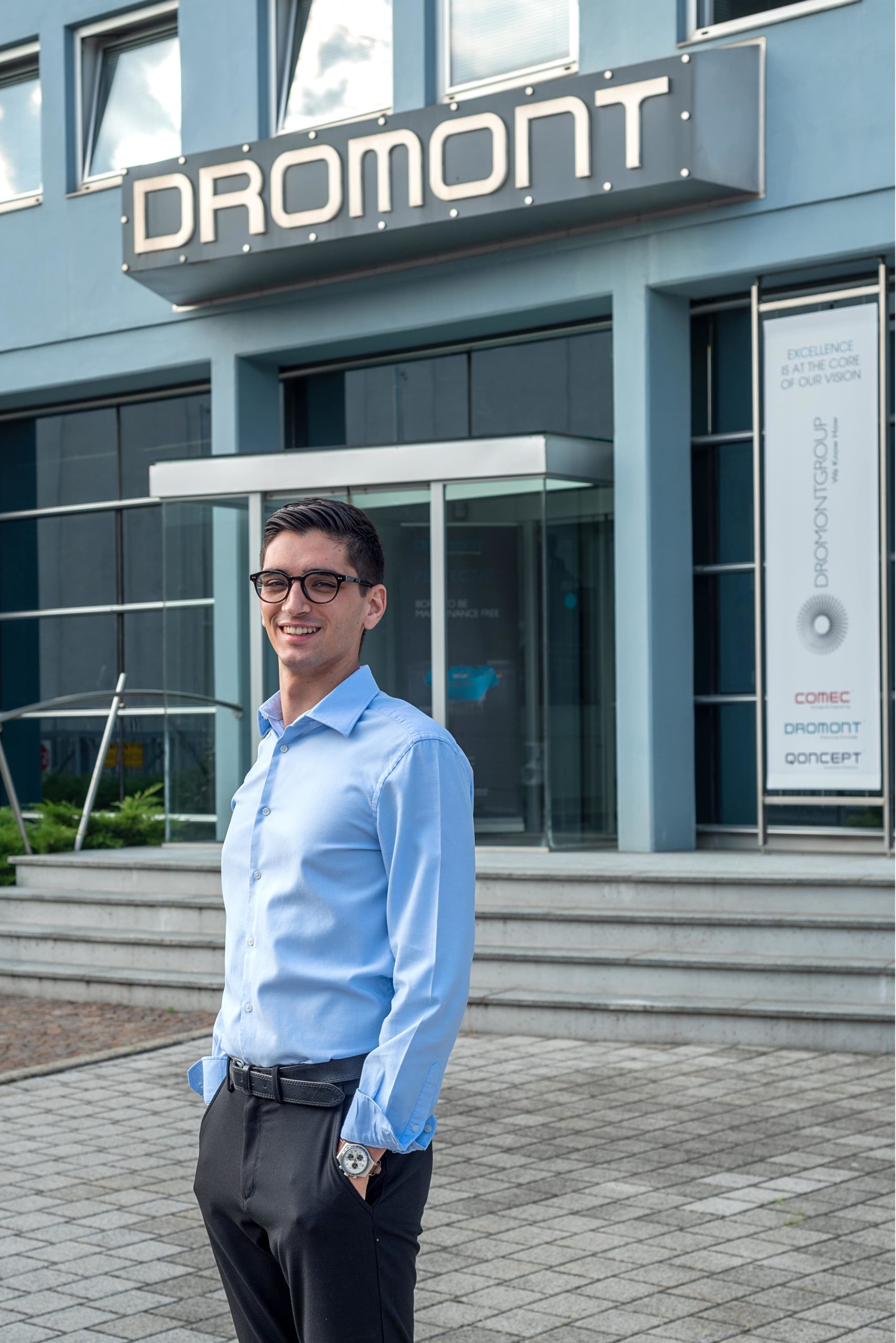 Matteo Ramello
IT Manager
Dromont – Grinzane Cavour (CN) Italy
Tell us about you
I was born in Alba 23 years ago, I have always been interested and involved in computer systems, starting from middle school when I enjoyed repairing and installing new software on school computers. I continued my studies by obtaining a high school diploma in computer science.
With the time I don't spend in front of a computer, I enjoy cycling or playing tennis.
What do you do in the company and how do you think your young age can be an asset for DromontGroup?
I am in charge of monitoring and keeping under control everything related to IT systems: from servers and security systems to management of employees' personal computer issues.
I believe that my innovative vision will help to bring new possibilities to the company as the IT field is constantly changing. I focus on making work smarter and easier.
Thinking about your career in DromontGroup, what goals would you like to achieve?
I am looking for constant challenges to motivate me. In the DromontGroup, I will have the opportunity to grow professionally and personally, being able to compare myself with people rich in experience and learn from my coworkers' complementary skills.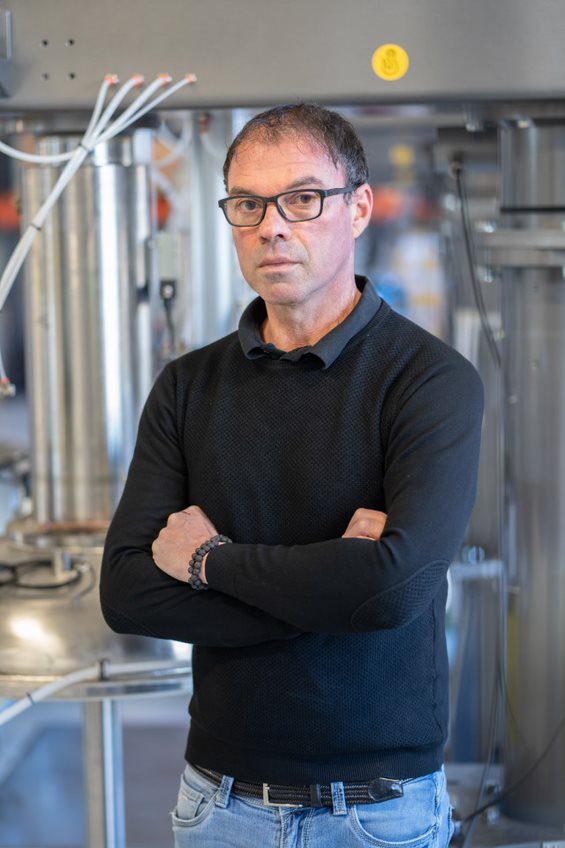 Stefano Viappiani
Production Manager
Comec – Canossa (RE) Italy
Tell us about you
I am 51 years old and have worked for my previous employer for the past 31 years. I was responsible for maintenance management for a fresh food packaging company with several plants in Italy and throughout Europe. That's where I learned how to organize and manage a large Team of technicians with a comple workload.
What are the most important competences and personal skills for your role?
To carry out the role of Production Manager, the fundamental skills are technical, such as the knowledge of mechanical design and plant components, but also interpersonal and managerial skills, such as the ability to manage human resources and work organization or select the personnel for the various commissioning to be carried out.
Finally, as for all managerial roles, another key aspect of this job is knowing how to communicate every decision with the team.
What do you like most about your job?
One of the greatest satisfactions over my career is having created a group of people with different experiences who all work together towards the same goal. I enjoy seeing new systems and plants taking shape from a simple design, knowing thay we made them. Likewise, it makes me proud to know that great trust has been placed in me by my manager and by the owner of the company.
Why would you recommend a working experience in DromontGroup?
DromontGroup is a family company that believes in what it produces and supports all employees that work here: this is the reason why I would recommend a working experience in DromontGroup.
Thinking about your professional career in the Group, what was the most significant experience?
The most significant experience was participating in a meeting for the development and improvement of a product. This enabled me to understand how important it is within the group to always improve and constantly seek perfection.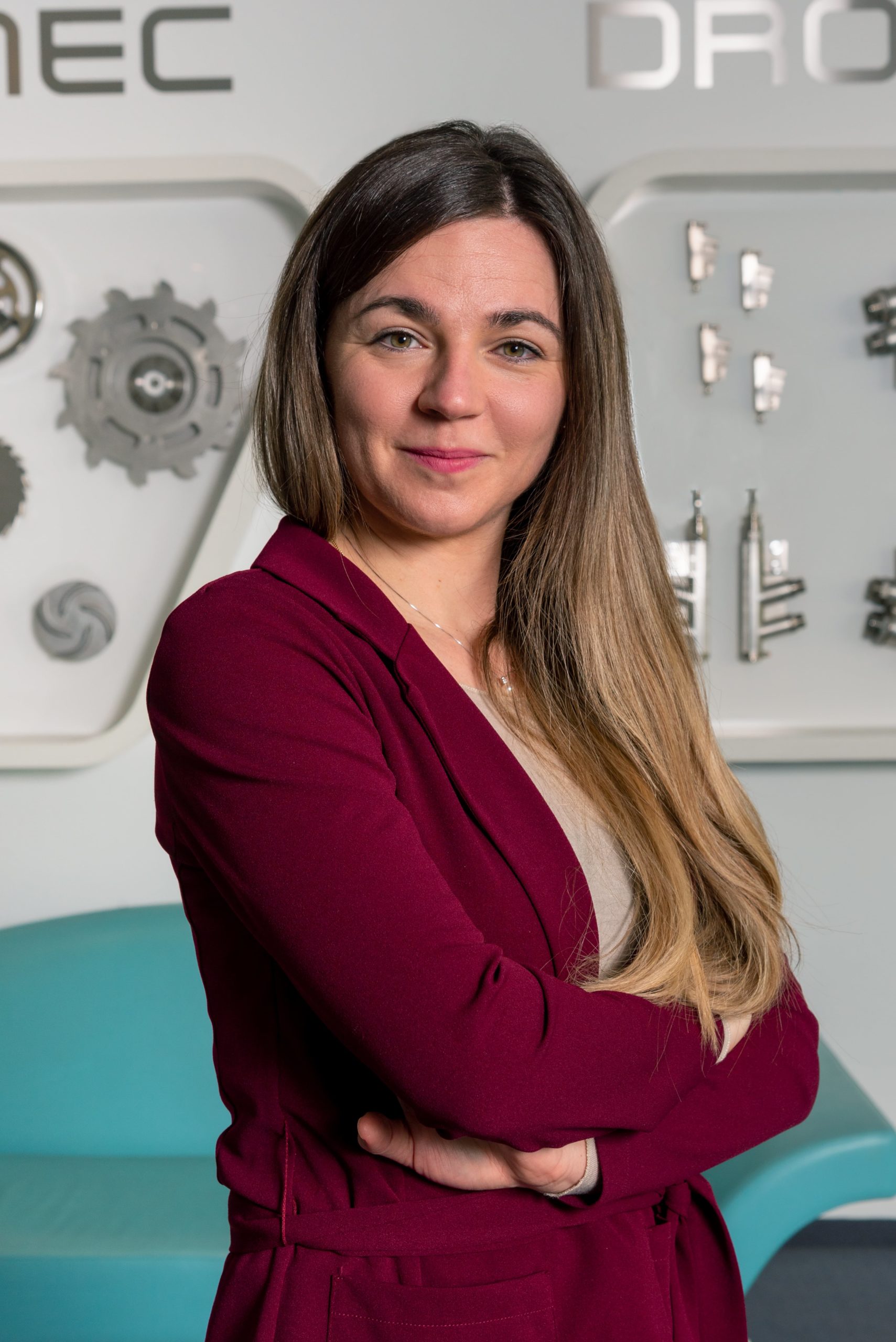 Emanuela Bosticco
Administration and HR Manager
Dromont – Grinzane Cavour (CN) Italy
Tell us about you
I am 26 years old. I studied accounting in high school and earned a bachelor's degree in economics. I moved to Alba two years ago and in early 2021, I started with Dromont in the HR and Administration Department. In my previous work experiences, I have always worked in the administrative field.
What are the most important competences and personal skills for your role?
To perform well in my job, I think excellent organizational and management skills, as well as precision and punctuality are fundamental.
What do you like most about your job?
I like everything related to my job: it allows me to have contacts with colleagues and put into practice the theoretical concepts that I studied in the past years.
Additionally, the experience in Dromont has allowed me to enter the world of Human Resources and receive training on HR processes. The company also supports me in my current master's degree path in Management and Finance with a Human Resources specialization.
Why would you recommend a working experience in DromontGroup?
I would strongly recommend a working experience in DromontGroup: they give you the room you need to grow and develop withing the group.
At the same time, working with trained and competent people is contributing to my personal and professional growth.
Thinking about your professional career in the Group, what was the most significant experience?
In my previous experiences, I have never had the chance to focus on the emotional challenges the HR work presents but only on applying laws, policies and procedures. In DromontGroup, I learned how to remain neutral while showing compassion, manage complex situations and gain people's trust. It's a challenging but extremely stimulating and enriching job.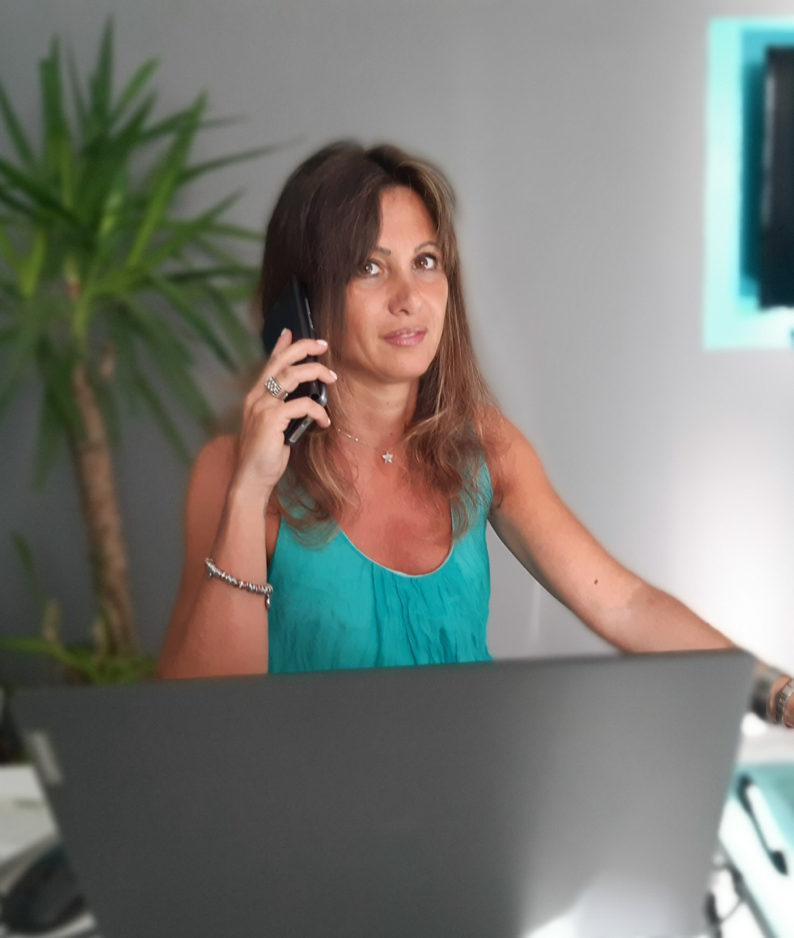 Nicoletta Abbona
Customer Service INPLANT Manager
Dromont – Grinzane Cavour (CN) Italy
Tell us about you
I was born in Alba in 1977 and I lived there until I got married 14 years ago. I have 2 children aged 7 and 9 who engaged me a lot. In my spare time I like to play sports and cook for friends. As soon as I graduated, after performing specialization courses (office automation, sales, and linguistics) I worked in the marketing sector (advertising, telecommunications and real estate). For 20 years I have been part of the Dromont team where today my role is the Customer Service manager.
What are the most important competences and personal skills for your role?
To cover my role in the company, are required: excellent relational and organizational skills and good linguistic and technical knowledge of the products and services offered by Dromont.
What do you like most about your job?
Regarding my job I love, above all, the relationship aspect with customers from all over the world, the variety of requests to manage and the satisfaction for having contributed to the achievement of a result -both for the customer and for Dromont itself.
Why would you recommend a working experience in Dromont?
I would recommend Dromont because it is a cutting-edge company, committed to research and always looking to the future, a company capable of involving giving space to the ideas and creativity of the employees.
Thinking about your professional career in the Group, what was the most significant experience?
When I joined the company 20 years ago, my role did not exist. I was fortunate to collaborate directly with the Management with which I created this entity of support and reference for all our customers. This was very exciting. Today, the function of customer service has s a strategic role of fundamental importance and to be part of this is very rewarding.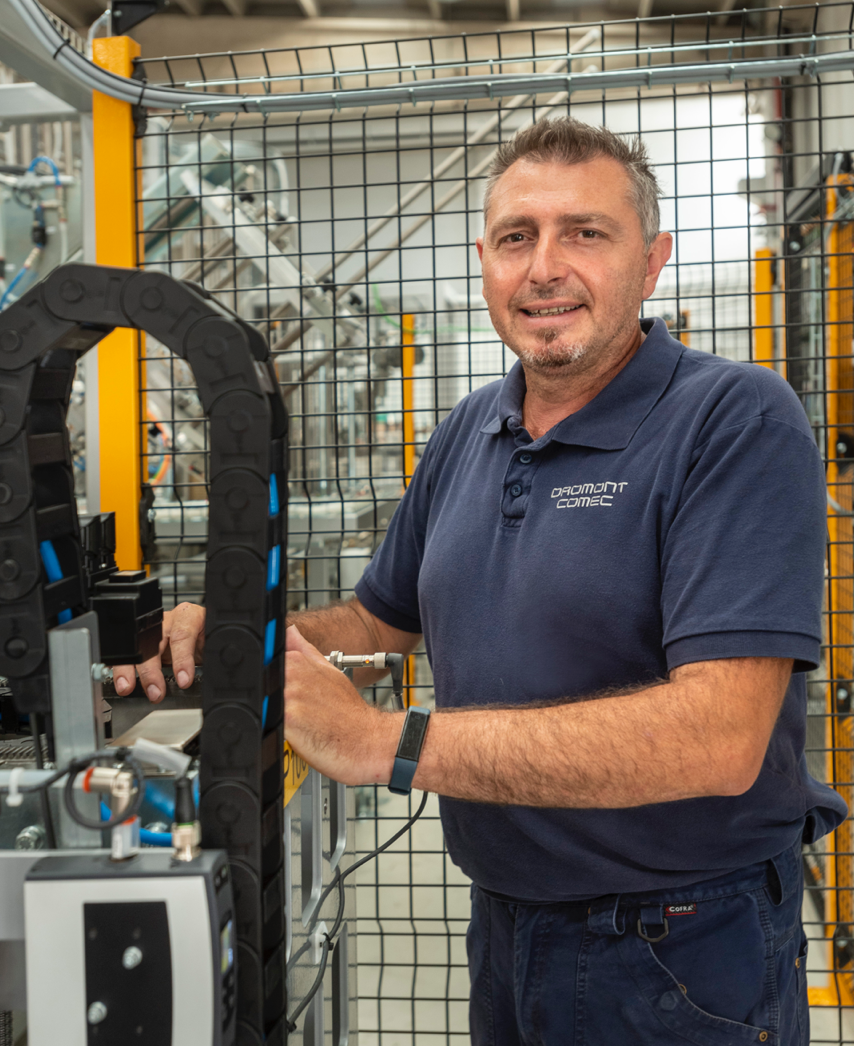 Matteo Seminara
Senior Mechanical Technician
Dromont – Grinzane Cavour (CN) Italy
Tell us about you
I was born in Palermo, I moved to Alba when I was a child. I attended a mechanical professional school in Alba. I started my career in a company as mechanical assembler of forklifts. Later, I worked for a manufacturing company of turbo compressors for ships, trains and motor vehicles. My personal interests are traveling by motorbike, running and taking care of my garden (flowers and vegetables).
What are the most important competences and personal skills for your role?
I take care of the in-line assembly of the plants (Dromont InPlant) specifically for the mechanical part. I have to interface with different figures, such as engineers, designers and also with the final client. I often supervise the assembly of the plant at customer's site, with the role of directing the local working teams.
What do you like most about your job?
After having assembled the complete automatic and automated line, I am satisfied to see the result, a huge giant, and  to know that the customer is satisfied…..and I like receiving the congratulations from Customers.
Why would you recommend a working experience in Dromont?
It is possible to experience both mechanically and pneumatically, and each plant is always different and our goal is to know that we can offer different and customized solutions for our customers. Our plants are not standard, this is our added value. Customers are looking for Dromont to find out which is the best solution for their company and not just to buy a system. The interesting part of my job and that I love is to travel all over the world, this aspect allows me to get to know other cultures both from a working and a human point of view.
Thinking about your professional career in the Group, what was the most significant experience?
I have been working in Dromont since 2001. Initially I dedicated myself to assembling and installing small systems: today I supervise large and complex systems and I am satisfied because I have achieved a great goal. I have had many positive experiences, and I like to tell about one of the last trips to Australia where I supervised the assembly of a very important plant for a large multinational, Dulux Australia. I interfaced with several Australian companies to coordinate the assembly that took place with excellent results. I hope to return soon, it was truly a positive trip and a marvelous country.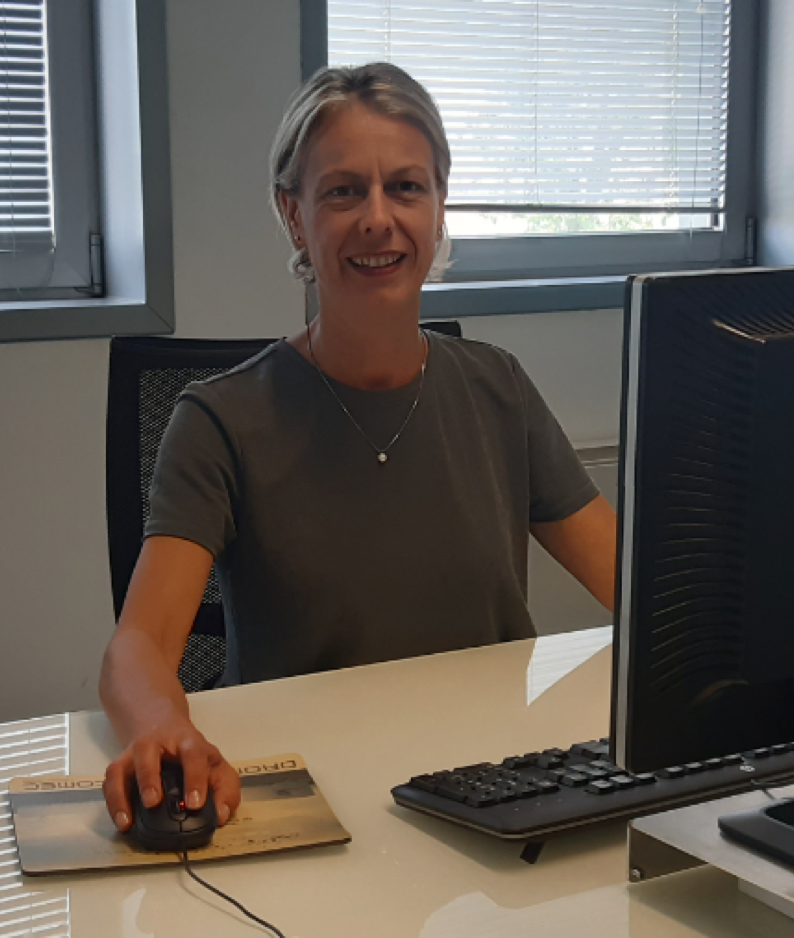 Laura Botto
Customer Service RETAIL Manager
Dromont – Grinzane Cavour (CN) Italy
Tell us about you
I was born in Alba, in the Langhe Area and spent the first part of my life there. I then moved to UK where I got my bachelor degree in Business with Technology at the University of Brighton. After some experience in Ireland and in the centre of Italy, I moved back to my beloved Langhe area and started my adventure with Dromont. I'm passionate about long trips, backpacker style if needed. I love walking in the woods to spot secret places and outdoor sports!
What are the most important competences and personal skills for your role?
A good technical background and a logical attitude to catch and reorganise the multitude of information that you get when receiving a Request for Assistance. In no time you must understand where the problem is and solve it! A good portion of patience is also needed to cope with the most complex cases.
What do you like most about your job?
Being in contact with the whole world, from Australia to North and South America, from the Northern pole to South Africa!
Why would you recommend a working experience in Dromont?
Working in Dromont is simply wonderful, no time for getting bored, lot of challenges, new developments and many variable tasks!
Thinking about your professional career in the Group, what was the most significant experience?
I've now spent 20 years in Dromont and have plenty of nice and different experiences to remember! Starting from the first exhibitions to the development of new in-plant projects, from the approval of POS dispensers to R&D testing!